Reports & Insights
To be for England in famous semi final win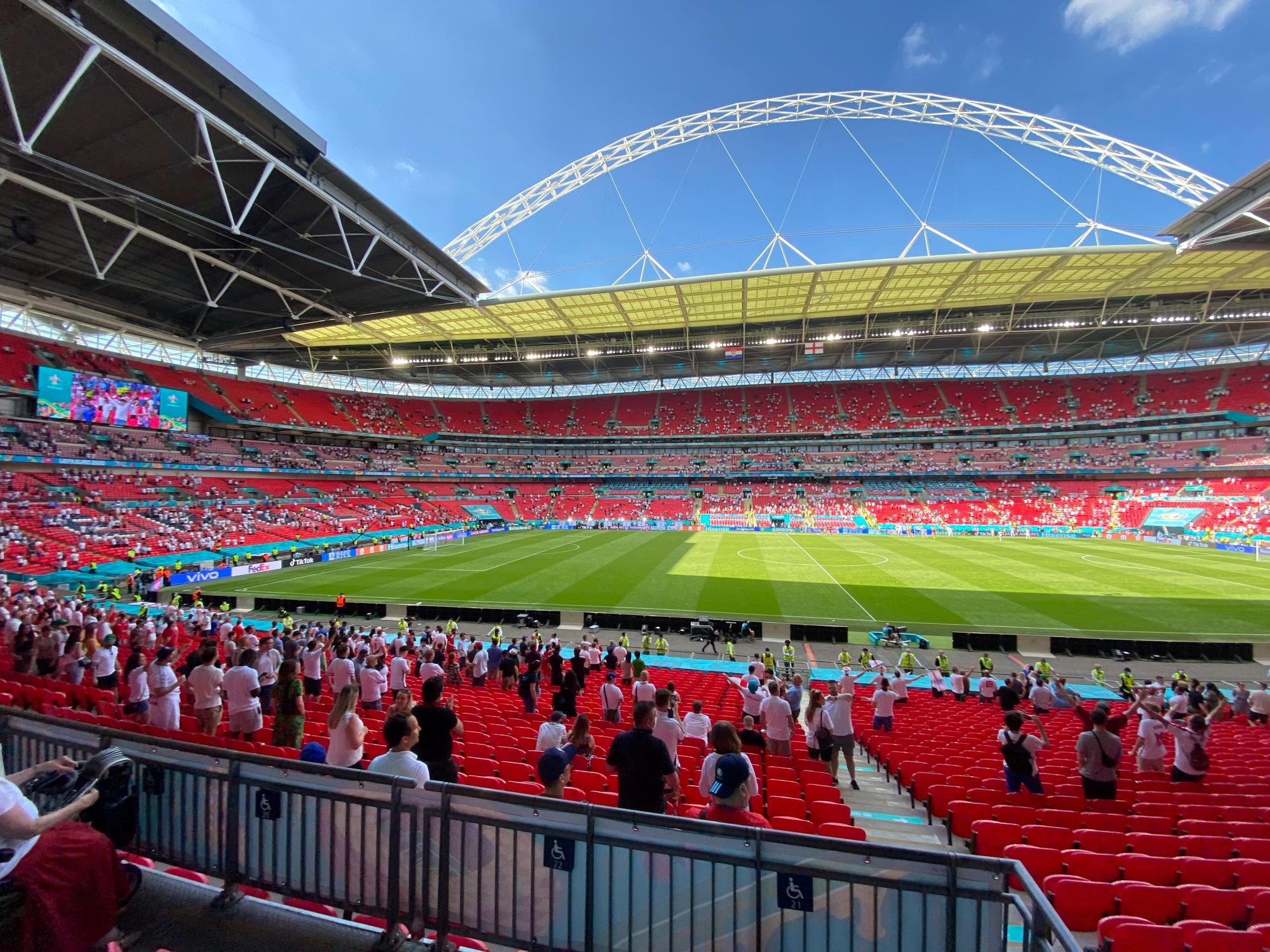 To be for England in famous semi final win
In the end, for England, it was to be. It was a day to be cheering. It was a day to be losing your voice belting out Football's Coming Home or Sweet Caroline. Above all, it was a day to be at Wembley, in a raucous bar, or on a sofa at home, watching England play football. There have not been too many days in recent memory when that can be said to be a good choice for anyone but the most sadistic viewer. But on the seventh day of the seventh month in 2021, to watch England play was the thing. To not be watching, listening or following. That was out of the question.
When Denmark weathered England's early storm, it looked like it might be another kind of day. When the excellent Mikkel Damsgaard scored the tournament's first direct free kick, 55 years of defeated expectations suggested that even more strongly. On the evidence of the first half, and indeed of the whole tournament, things are far from rotten in the state of Denmark. The Danes were everything that they have been not just in this emotional tournament but in the weeks and months before. This is a team that has withstood the shock and horror of what happened to Christian Eriksen. This is a team that has risen by grit and skill to number 10 in FIFA's world rankings. They are resilient at the back, comfortable and vibrant in possession, bursting forward in numbers and unafraid to pepper the goal from range. Their players are winners and leaders on the European club scene, and in the last month they have distinguished themselves in every way elite sportspeople can, and a few more besides. From back to front they were immense. Kasper Schmeichel was a colossus. A strong hand clawed Harry Maguire's header away from goal when it seemed to be past him. Even with a laser glinting in his eyes – another glittering contribution from some of the tournament's most boorish fans – he was down fast to save from the spot, and unlucky not to push the ball further from danger. England will be pleased that that they only had to take one penalty rather than five against him.
Enforced changes to the spine of the team, with Andreas Christensen and Thomas Delaney succumbing to injury, weakened their quality but not their resolve. After everything they have endured, it would have been impossible to begrudge them a win if it had been they rather than England triumphing in extra time.
Instead, where Denmark's substitutes weakened them, slowing down the buzzing movement that had been causing England so much trouble, England's added fresh impetus. It was like the difference between giving blood and receiving it. In his brief cameo Jack Grealish, despite not looking as threatening as in previous appearances, posed Denmark a different problem to solve, always looking to carry the ball into the penalty area, always looking forwards. Jordan Henderson added much needed calm.
Raheem Sterling meanwhile carried on running, bursting between defenders, cutting inside and out. The Man City man was a constant menace, changing pace like he was playing Scalextric, nudging defenders off the track as he alone scampered round hairpin bends.
Ultimately the game hinged on two pieces of dubious chance. If a soft penalty was the slings, then Kane arriving first to the rebound was the arrows of outrageous fortune. But, in truth, for the thirty minutes or so before that moment, England's play had been the bolder, the more energetic and composed. It was when they reverted to caution, after scoring the winner, hooking the only recently arrived Grealish and switching to a back five that Denmark looked more likely to score.
If Southgate has a flaw it is that tendency to caution. So far it has worked, even if it is tempting to wonder whether England's victories might have been more comfortable had he released the handbrake earlier, or kept it off for longer. England's ability to keep games close – nine minutes against Denmark is the only time they have trailed all tournament – has meant that their strength in depth off the bench has been enough to tilt the balance in tight matches. We have yet to see how they would react if they were to go multiple goals down, or if they failed to recover so fast. Against Italy Southgate will surely look to keep it tight again, perhaps starting with the back five and two defensive midfielders who began against Germany. But the Italians will not be as meek, nor as easily distracted in possession. If England's central midfielders offer as little progressive threat on the ball, and let Italy disrupt them as effectively as Denmark did, then the three lions will have their work cut out. Spain's decision to surround Chiellini and Bonucci with wily runners worked well. Italy's gladiators will not relish the likes of Sterling, Saka or Sancho dancing in their vicinity, but Harry Kane will have to be on his most energetic form to avoid engaging in the kind of physical central battle that will suit Italy's veterans. At the back, Jordan Pickford will need to become again the composed figure he was for the first four games before his skittish last two appearances.
For all his caution and tinkering, Southgate has earned the right to be trusted. Victories do that. Each time the England manager has seemed to err towards madness in the last month, the results have suggested method instead. A right footed left back against Croatia. Changing the formation that conceded no goals in the group stage to prepare for Germany. The slowness of substitutions against Denmark. All have turned out for the best. If he springs one final surprise, we should not be surprised if it turns out to be his masterstroke.
If a soft penalty was the slings, then Kane arriving first to the rebound was the arrows of outrageous fortune
Looking for extensive insight and strategic solutions for your organisation?

We can help.