Reports & Insights
Sports retail outperforming 2019 and 2018 as well as 2020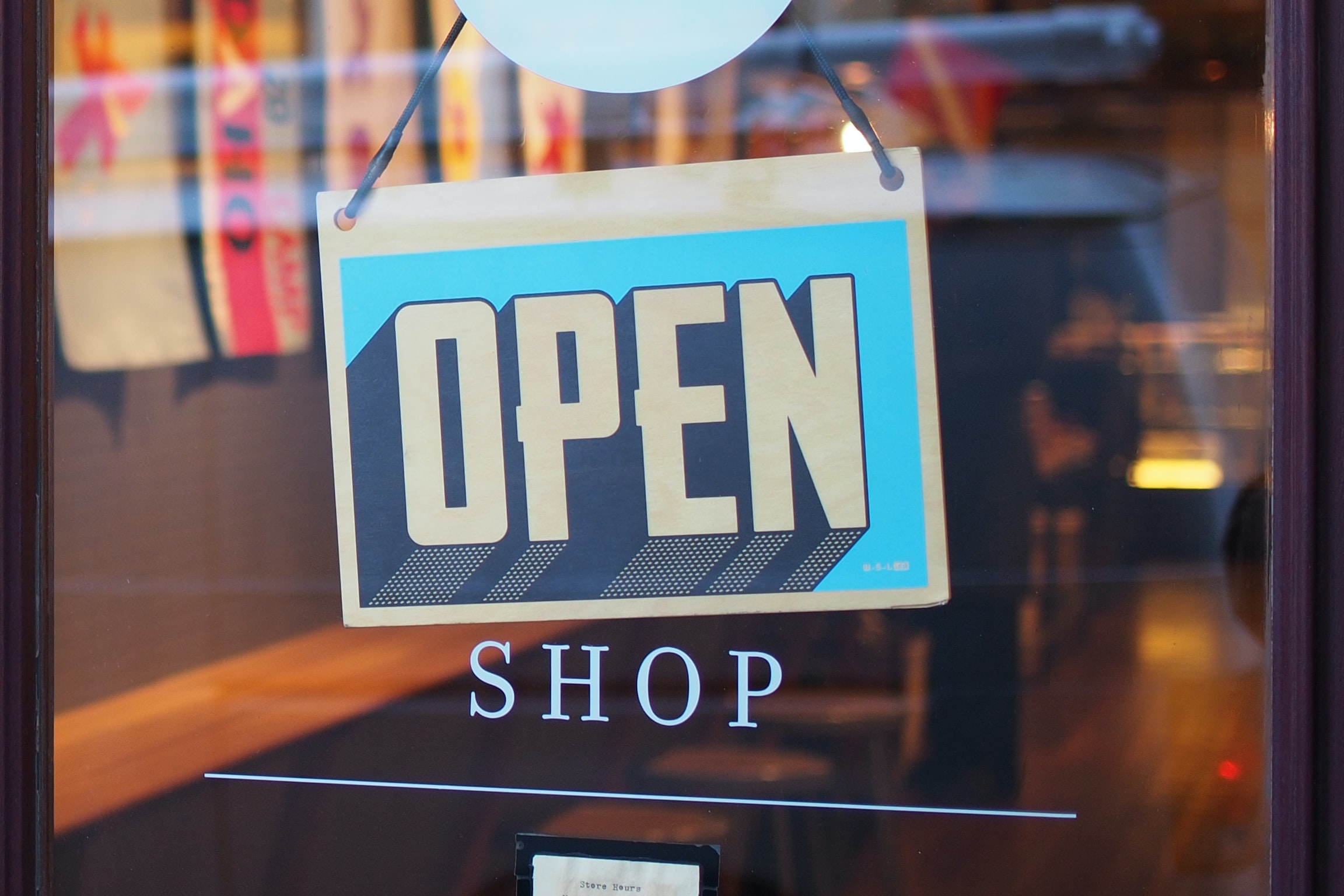 Sports retail outperforming 2019 and 2018 as well as 2020
New insights from sports and leisure specialist researchers Sports Marketing Surveys (SMS) capture a spring surge in sports goods sales in the USA.
In tennis, March 2021 was the largest March in volume since 2015. In the specialty running sector, April 2021 was the best performing single month in the last three years.
Compared to pandemic affected 2020, the figures are extraordinary. But, it is the growth against 2019 that is much more meaningful.
In fact, against prior years, the total number of running shoes sold in the US in April 2021 was up 21.5% against April 2019. That April was itself a strong performing month. This year's figures are up 28.6% against April 2018. In tennis, the boost is even bigger. Sales of racquets were up 27% against April 2019, and a massive 37.8% against April 2018. With 2020, unlike 2019, hosting a full calendar of professional events, including the current Wimbledon, there is scope for further evolution.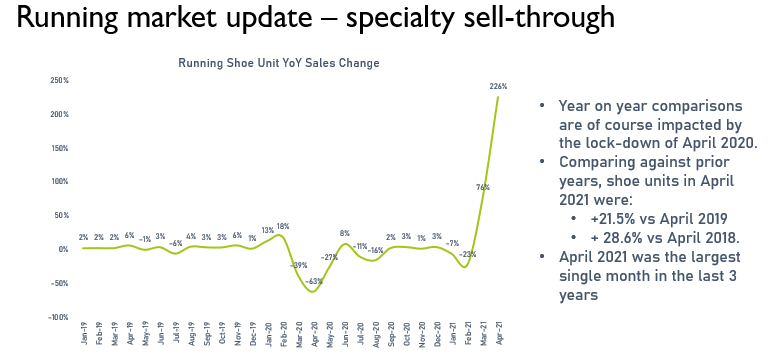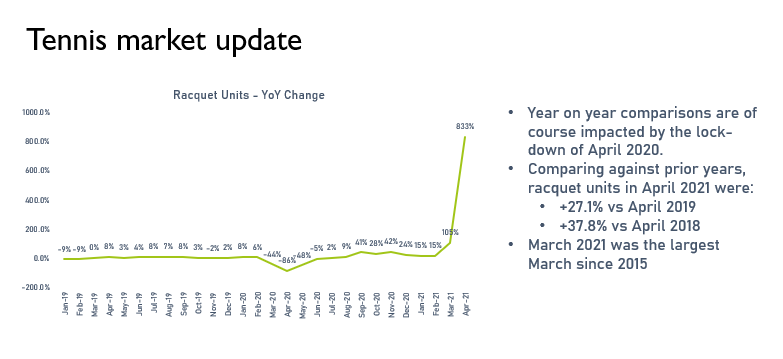 The news confirms positive signs for the sports and leisure industry. Earlier in June, ActionWatch, SMS' Surf and Skate retail monitor, reported that year to date sales were up more than 30%. The progress is shared by multiple brands, with 95% of the 160 brands ActionWatch tracks showing sales surges and 45% doing so by more than 100%. It is also shared by retailers, with 90% of the ActionWatch panel growing by at least 10% this year.
The findings show that, like Surf and Skate, the tennis and running industries are benefitting from a virtuous circle of higher average sale prices and sustained consumer demand.
That demand is also boosted by rising sports participation. A total of 8 million more Americans were active in 2020 than in 2019, and both tennis and skateboarding are at the vanguard of increasing sports participation across the country. Skateboarding was the second fastest growing sport in terms of participation in 2020. Tennis and two variations of the sport, pickleball and pop tennis / platform tennis, accounted for three of the top six.
Keith Storey, president of Sports Marketing Surveys USA congratulated everyone involved in the recent recovery. "The outlook for sports and leisure retail is very positive right now. The question is whether this can become a new reality, and the spikes in sales can become a new baseline for growing sports. Results for last summer were hugely impressive, and with many people perhaps buying earlier this year, it will be hard to sustain the year-on-year growth in the months to come. But the surge in participation as well as a lot of hard work behind the scenes by retailers and brands alike means that there is a chance these positive months become positive quarters and years."
All sales figures are taken from Sports Marketing Surveys' robust panels of core specialty retailers.
For more information about SMS' sales insights in the USA, please contact keith.storey@sportsmarketingsurveysusa.com
To learn more about ActionWatch and the Surf & Skate industry, please contact patrik@actionwatch.com
Tennis racquets and running shoes are selling faster than in 2018 or 2019
Looking for extensive insight and strategic solutions for your organisation?

We can help.