Fun and games
Fantasy Premier League – Gameweek 1 Squad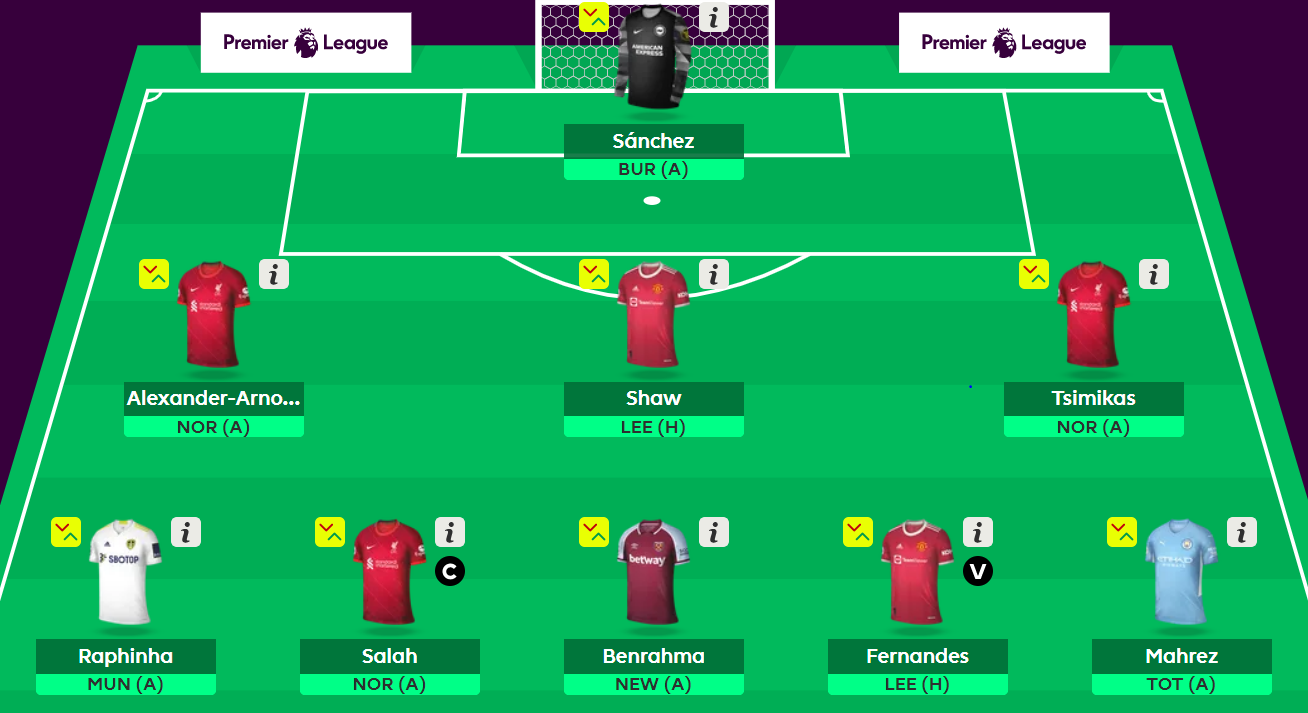 Fantasy Premier League – Gameweek 1 Squad
Are you ready to dominate your Fantasy football leagues in 2021? If you're lost in the mire of whether to go big at the back, unsure whether your West Ham triple up is too much, or wondering whether you can trust Jota or Greenwood's minutes, we might be able to help.
SMS' Edward Willis, fresh off a top 10k fantasy football finish in 2020/21, runs through his team's gameweek 1 lineup.
Goalkeepers
I never like spending much on goalkeepers. On a value level, the ability to save some budget and rack up save and bonus points more than offsets the lower likelihood of clean sheets compared to picking a top 6 goalkeeper. Rotating keepers can be a lottery, and eats up precious budget so I'll be spending no more than 4.0 (the cheapest price bracket) for my reserve keeper. At the basement price of 4.5 for starting keepers, you're shopping mostly around promoted teams and those expected to struggle. Of those, Brighton look to have by some margin the best defence. Even after Ben White's transfer to Arsenal, I suspect the cunning Graham Potter will find a way to keep things tight, so I'm picking Robert Sanchez at 4.5m. For the bench slot, take your pick at 4.0, although I'd avoid Ben Foster, whose high ownership makes him the most prone to a price drop if he is transferred out.
Defence
Liverpool's fullbacks have been among the most consistent performers in FPL over the past three years. Trent Alexander-Arnold (7.5) was one of the first names on my teamsheet. I did debate whether or not to save the 0.5m and downgrade to Andy Robertson, but Alexander-Arnold's greater share of set pieces, including direct free kicks, higher creativity from open play had convinced me not to do so, even before Robertson's ankle injury.
That unfortunate injury, received in the pre-season friendly against Athletic Bilbao has also prompted me to pick Robertson's likely replacement, Kostas Tsimikas. This pick is a risk. Not only will it almost certainly require an early transfer if Robertson returns in the opening five or six gameweeks, but there is also a chance Liverpool turn to the ever trusty James Milner to deputise for Robertson instead of Tsimikas. But, the Greek has featured in pre-season, and at a price of 4.0, I'm willing to take the risk on Tsimikas as my fifth defender. If he does start, Tsimikas will likely rise in value fast.
Luke Shaw (5.5) is arguably an even easier pick than Alexander-Arnold. For 5.5m, Shaw offers attacking threat and a share of corner duties, something that could see an uptick in productivity this season now that Manchester United have hired a new set piece coach. United's clean sheet prospects also appear to be boosted by the arrival of Rafael Varane. I expect Shaw to massively outperform his price tag, and clearly I'm not alone. At the time of writing, Shaw is the most owned player in the game.
Ben White (4.5) is my fourth defensive pick. White was actually in my team while still a Brighton player. His move to Arsenal doesn't dramatically enhance his prospects, and White is still unlikely to claim many attacking points, but it does make me slightly more confident. Despite looking leaky, Arsenal were actually the third best defence. If they can find a way to concede the same amount of goals, but in fewer games, both their premier league and fantasy premier league's points should rise.
The second defenive double up in my team takes us to Brigthon and Adam Webster (4.5). I intend to play mainly 3-5-2 or 4-4-2 at the start of the season, and so I don't need five star defenders necessarily. It's a risk but I expect Brighton's defensive system to hold up. I'm happy to play Webster in attractive fixtures, or when needed.
Midfielders
Mo Salah (12.0) or Bruno Fernandes (12.5) is one of the main dilemmas facing fantasy football managers this season and I've picked both. With the arrival of Jadon Sancho at the Theatre of Dreams and Marcus Rashford's injury promising greater security of minutes to Mason Greenwood (7.5), many managers are hoping to downgrade Bruno to one of the Englishmen. I was similarly tempted, but in the end opted for the greater security of the Portuguese. His higher ownership means less likelihood of falling behind early on, and it's easier to downgrade to Sancho or Grenwood than upgrade back to Bruno. Of his two teammates it is Greenwood, with a full pre-season under his belt, who tempts me more. There may well come a time when I'm looking for one of Sancho or Greenwood to be my only united midfield asset with Bruno departing to fit in a premium striker. Timing the move will be the key, and for the start, I'm happy to take the less risky options and find my differentials elsewhere.
The Liverpool star needs no introduction. He is a two-time golden boot winner, the main penalty taker (unless Milner makes more appearances than anticipated) and fully-fledged fpl royalty. He may be the most expensive player in the game, but there are copious reasons why. He lives in the box, is selfish in the best possible way (from an FPL point of view) and always liable to a huge haul. I expect to captain Salah heavily early on during Liverpool's favourable fixtures.
Riyadh Mahrez (9.0) also earns selection. Many people will choose to stay away from Manchester City altogether, to avoid the infamous Pep Roulette. It's true that City have an abundance of riches, particularly of the type of dainty wide creators who like to drift into the centre, but I expect Mahrez to be relatively nailed on to start early in the season thanks to injuries and late returns for peers including Kevin de Bruyne (who would otherwise have strongly tempted me at 12.0), Phil Foden and Raheem Sterling. The Algerian has had a full pre-season, looks to be on penalties and was bright in a youthful City team in the Community Shield. Guardiola likes to ease new signings in, so the recently arrived Jack Grealish may not be the automatic starter his price tag would imply. Ilkay Gundogan is also appealing as the German is a much higher scorer in De Bruyne's abence, but Mahrez's greater threat swayed me eventually. I definitely don't expect him to be a season keeper, but for the early fixtures leading towards a first wildcard, Mahrez could be one of the game's leading scorers. With only 6.3% ownership at the time of writing, he comes with big upside.
The final slot in my midfield is taken by West Ham's Said Benrahma. The second Algerian in my midfield is an even bigger risk than the first, but he has excelled in pre-season and could take on the talismanic role vacated by the return of Jesse Lingard to Manchester United. At 3.0% ownership, he could be a strong differential and a potential price riser early on. The 0.5m saving from Buendia is also useful.
Forwards
When the game initially released, my instinct was to play three strikers but, one by one, they seem to have fallen by the wayside. Kelechi Iheanacho's prospects have been dimmed by the return of Harvey Barnes and the signing of lightning quick Patson Daka. Ollie Watkins was a lock until the arrival of Danny Ings, which now relegates him to a wait and see until we know how the Southampton striker's arrival affects his security of starts and positioning. Ings didn't tempt me at Southampton but with Villa's greater creativity, he is now a potential option. Dominic Calvert-Lewin, was also tempting but Everton have looked ragged in pre-season and his returns can be inconsistent. If you'd told me in pre-season that I'd end up with a West Ham double up, I wouldn't have believed you. I'm very worried about how Europa League football will affect their thin squad, but they have looked strong in pre-season, have good fixtures and so on balance, I'm happy to take the gamble, at least until their European adventure beings. Michail Antonio (7.5) is the only striker on West Ham's books and I expect him to start regularly barring injury. When he does play, Antonio is a consistent FPL scorer.
Along with two million other players, I'm also gambling on Ivan Toney at 6.5. Promoted players are always a risk, but Toney is central to everything that a zestful, attack minded Brentford team do. I don't expect him to get near his record 31 goals in the championship, but even if he scored half that, he'd be a steal at his price. The caveat with Toney is his high ownership means he could be a price dropper if Brentford have a disappointing start.
Because I want to play my five midfielders every (or at least most) weeks, I'm not fussed about my third striker getting many, or even any minutes. That means it's a 4.5 slot at least until my first wildcard, when I'd hope to upgrade to a playing third striker who can at least offer something off the bench in case of a rash of injuries, suspensions or covid cases. I've chosen Tottenham's Dane Scarlett as he has the lowest ownership at this price point.
Good luck to all players. Enjoy the season.
Manchester United's Luke Shaw is currently the most owned player in the game
Looking for extensive insight and strategic solutions for your organisation?

We can help.